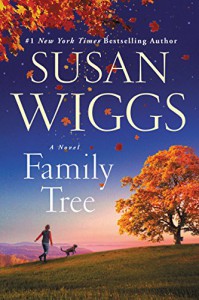 "Memories are strange things, aren't they? You can't touch them and hold them in your hands, but they have incredible power. Because I've lost so many memories, I feel as though I've lost that power."
If you want a story with a complicated plot rife with emotional depth and personal growth, Susan Wiggs is the author to turn to. And Family Tree fulfilled all of my expectations. Being a fan of Wiggs' work, I just knew I would find myself engrossed in our main character's struggles to pick up the pieces of her shattered life.
Okay, so if you've ever read anything by Susan Wiggs before, you know she doesn't do light and fluffy romance. And that is totally fine by me. As much as I love a lighthearted read, I'm also a sucker for a heartwrenching emotional journey that focuses on friendships, personal woes, family drama and that has the characters learning important life-changing lessons along the way. That, in a nutshell, explains Family Tree.